Inktober is the international art challenge that connects a lot of illustrators around the world. 31 days, 31 words, paper and ink. Inktober 2022 red sketchbook was born by the cut of the notebook in bigger size.
Leggi in Italiano – Версия на русском языке
Treat or trick by Inktober 2022 sketchbook
The illustration dedicated to Halloween is the result of digital college of 2 ink drawings. One of them, the "Uh-oh" illustration was the most difficult to find the subject to draw of all the challenge.
Inktober 2022 & Co
Scroll al the illustrations of Inktober sketchbook 2022. The topics and bonus illustrations.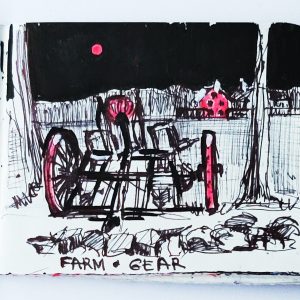 If you have questions, comments or ideas to share click here and write me. I will be happy to reply.
Follow the work in progress and real time news on my social accounts
FaceBook, Twitter , Instagram , Tumbler and Pinterest. Watch my videos and reels on Youtube and support my art on Patreon.
If you want to receive the original handmade art postcards from my tours just click here and be a part of the exclusive supporter's club!