Hi! My name is Yulia A. Korneva and you will find my Biography and shows list on this page.
Biography
Yulia A. Korneva was born to Moscow (Russia) 11th March 1981. Graduated in 2003 from Moscow State Academy of Technology. Now lives and works in Turin (Italy).
Версия на русском языке – Leggi in Italiano
During the university studies the artistic activity continues with woks ofdesign anddesktop publishing. In 2000 she has created the illustrations for book of poems "August" (Indipendent publisher; Moscow; Russia) written by Nadezda Korneva. The first personal exhibition took place in 2004.
The painter is fond of the figurative painting, in particular surrealism, like Salvador Dalì and several dreaming atmospheres of Paul Delvaux. In this page you can find not only the artist's biography and shows but also the reviews, awards and more.
PERMANENT EXHIBITIONS
Saturnia Tuscany Hotel – Poggio Murella, Manciano (Italy) Strada Marco Pantani, 58014
AWARDS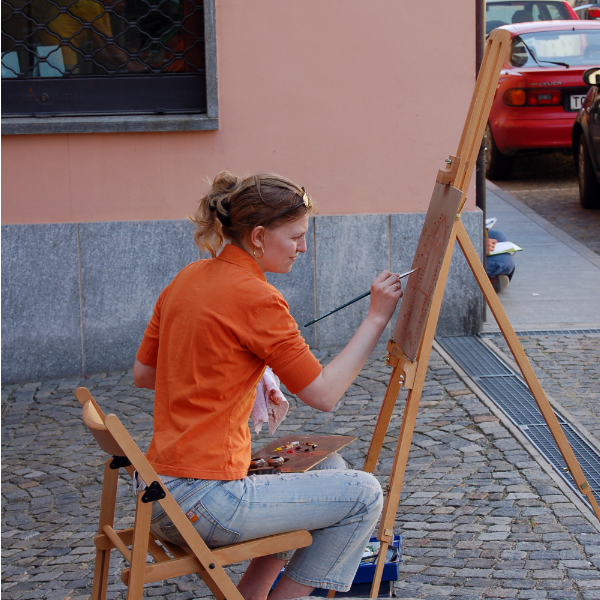 Extemporary art event Piossasco (Italy) – 30 May 2015 (2nd place in Drawing and mixed media)
Artantis – August 2008 (3° place)
Cedas Fiat extemporary in Rocca Canavese (Italy – 26 May 2007 (1st place)
CEDAS Fiat Extemporary in Frossasco- 27 May 2006 (2nd Place)
Art competition "Pianezza and its Palio" – 16-24 September 2006 (prize for young painters)
Cedas Extemporary in Fiano – 15 May 2004 (1st prize)
SOLO SHOWS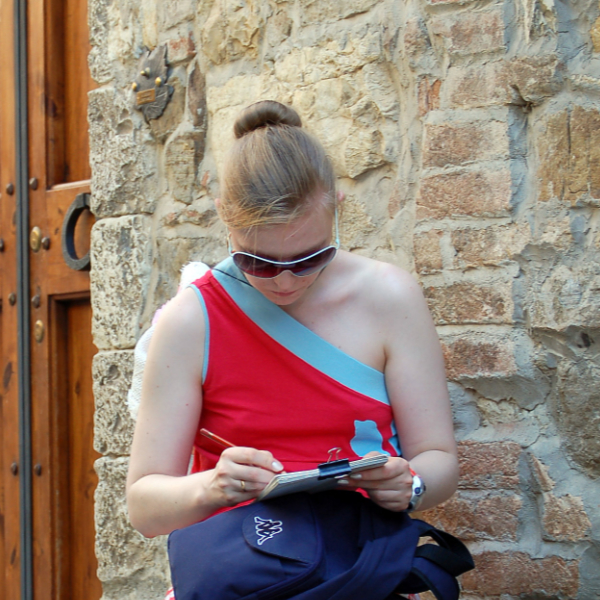 Paratissima Art Fair (Turin, Italy) – 23 October – 8 November 2020
Paratissima 15 (Turin, Italy) – 30 October – 3 November 2019
Paratissima 14 (Turin, Italy) – 30 October – 5 November 2018
Paratissima 13 (Turin, Italy) – 1 – 5 November 2017
"Mini 8" Circolo degli artisti art gallery (Turin, Italy) – 6-19 October 2017
"Watercolor different" Paratissima 12 (Turin, Italy) – 2-6 November 2016
Personal exhibition at Galleria 20 art gallery (Turin, Italy)- 5 – 20 February 2016
"Average value's point of view" Paratissima 11 (Turin, Italy) – November 2015
Mini personal dedicated to Dante Alighieri Central library of Pianezza (Italy) – 5 october-6 November 2015
A.N.A.S.P.IMM. office (Turin Italy) – Januarry 2014-30 March 2015
"The faces of Turin" Paratissima 10 (Turin, Italy) – November 2014
"Renesance 2.0" PIX Paratissima 9 (Turin, Italy) – 6-10 November 2013
Personal exhibition and presentation of the new book written by Margherita Oggero "Perduti tra le pagine" – 15 October 2013
"The fog of Turin" at "SS Annunziata" gallery (Torino, TO) – 29 July -1 August 2013
Paratissima 2012 (Torino) – 7-11 Ottobre
Personal exhibition Cedas Fiat Piemonte artistico gallery – 16 October – 1 November 2012
"Russina dinner" (S. Elisabetta, Italy) – May 2012
Maeson de Beaute (Torino) – febbruary-March 2015
Personal Exhibition "15 Authors of CEDAS FIAT" – 7-16 November 2007
"The corners of Frossasco"- 4-8 August 2006
Personal Exhibition in art-caffe "Art & Coffee" -13 November – 11 December 2004
Personal Exhibition in Vineria delle Rosine – 7 – 28 July 2004
EDITIORIAL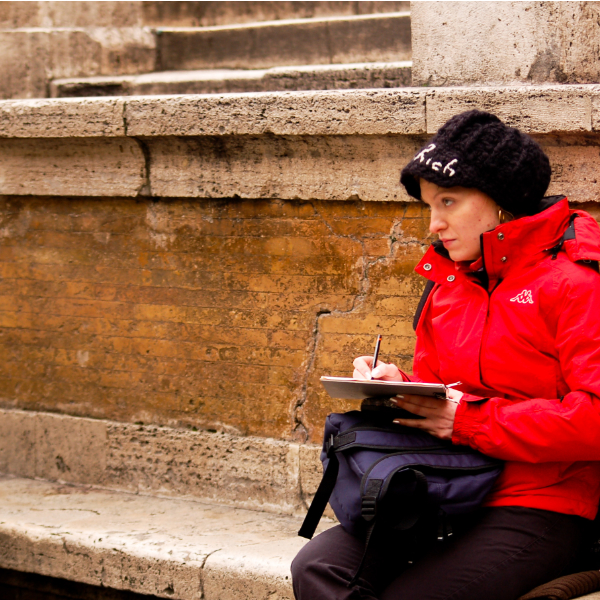 Catalogue of "Matite in viaggio" urban sketching collective – October 2022
Catalogue of "Matite in viaggio" urban sketching collective – October 2021
Catalogue of "Matite in viaggio" urban sketching collective – October 2020
Catalogue of Paratissima 16 Art fair – November 2020
Catalogue of Paratissima 13 – November 2018
Facebook, Twitter and other social pages of Zuegg Italia – December 2016 (Click here to see the immages)
Catalogue of Paratissima 12 – November 2016
See Torino Magazine, interview "Yulia A. Korneva, always ahead" – November 2016 (click here to read the article)
PJ Magazine, interview by Davide Buscemi – November 2016 (click here to read the complete article)
Catalogue of the exhbition "Alex Ognianoff and his students" – Febbruary 2016
Catalogue of Paratissima 11 – November 2015
Catalogue of Paratissima 10 – November 2014
Catalogue of Paratissima 9 – November 2013
Catalogue of Paratissima 2012 – Novembre 2012
Art calendar "Artwanted" (9/6/2008 – Misc. ArtWanted.com Artwork; 3/26/2008 – Sci-Fi / Fantasy; 2/6/2008 – Animals / Wildlife)
"La Stampa on line" photos of Olimpic Turin – febbruary 2006
Ilustrations of Nadezhda Korneva's poems book "August" (Moscow; Russia) – 2002
PRESS ROOM
"Mini 8" collective at "Circolo degli artisti" gallery (Turin, Italy) 6-19/10/2017
Inspired by Salvador Dalì and Paul Delvaux, Yulia Korneva creates particularly efficient and bold paintings. So the portrait of her teacher the watercolor painter Piera Luisolo made with coffee on raw paper, meanwhile the "flowers of orange tree" is made with orange and blueberry juice on paper.
There russian painter shows the particular interest towards the definition of the subjects by means of the reality that is there to be "discovered" step by step.
Gian Giorgio Massara e Angelo Mistrangelo
Collective at "Piemonte Artistico e culturale" Gallery (Turin, Italy) 16-31/10/2012
Yulia Korneva works at the topic of figurative art taking inspiration from Paul Delvaux and Edward Hopper for the painting that appears and disappears according to the clear and light chromatic tradition.
The fountain of seasons was built in 1898 in Turin (Italy) to celebrate 50th anniversary of the Statute. That fountain became immediately loved by the artists, especially from romanticism current. One of the statues has been transformed by Yulia Korneva by means of lights and ancient intents revisited breinging the Classics up to date.
The other two artworks are very interesting: a drawing and a painting called "Italy in time". Inspired by the famous nude by Ingres, the author plays with the colours of Italian national flag to evocate the sense of mental and moral liberty.
Gian Giorgio Massara e Angelo Mistrangelo
"BiblioTek" collective, Turin (Italy) 12-27/10/2012
The study and knowledge are to guide the group of artists from Leonardo to Michelangelo and to the projects looking forwart to the distant future … and than, a CD mysteriously inserted in the renaissance drawing, all of that permits to trace a "fill rouge" between the past and the present to the future.
Angelo Mistrangelo
Solo show "15 Artists of Cedas Fiat", Turin (Italy) 2007
… For Yulia Korneva the time becomes memory and present together: the two of her drawings concern the clocks – sometimes without the arrows – inside the unusual canvas format. The past also attracts this young artist in the painting inspired to Macchiaioli art movement that includes the modern art pattern and the classic forms.
Gian Giorgio Massara e Angelo Mistrangelo
Outdoor painting Cedas Fiat in Rocca canavese (Italy), 2007 – 1st place
A particular atmosphere is made by the lights and shadows between the sky and the ground and the evocative old mill
Gian Giorgio Massara
Cedas Fiat collective, Turin (Italy) 2007
In some artworks the artists got the inspiration from the places far away or from the memory of the time
Angelo Mistrangelo e Gian Giorgio Massara
Courrier des Arts (17 June 2006)
Julia Korneva focalizes the presence of the medieval mullioned window near a heraldic element
Gian Giorgio Massara
Art competition "Pianezza and its palio" 2006
Pianezza (Italy). Prise for young artists
For the fresh and vivid painting style
Jury of the competition
Outdoor art competition Cedas Fiat in Frossasco (Italy)
2006. 2nd place
"The artist drives opur attention by means of monochromatic painting the ancient window and the heraldic picture connected to the history of the Town."
Gian Giorgio Massara
Outdoor art competition Fiat in Fiano (Italy)
2004. 1st Place.
"in the artwork "the mistery" the artist talks about the memories and presence getting the inspiration from the image of the eighteenth-century abandoned farmstead."
Angelo Mistrangelo and Gian Giorgio Massara
Follow the news about fashion collections on my social accounts
FaceBook , Twitter , Instagram , Tumbler and Pinterest. Watch my videos and reels on Youtube and support my art on Patreon.
If you have questions, commets or thoughts to share click here and write me. I will be happy to reply.