New Watercolor Different artworks take part to the Art collective in Pianezza (Italy) from 14th March to 14th April 2023.
Leggi in Italiano – Версия на русском языке
As well as the show artworks are dedicated to the women who made a lot for the progress of science but rested unknown because of discrimination. The portraits are made with coffee, juice and chocolate used as watercolours.
Meet them all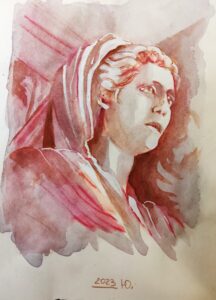 If you have questions, comments or ideas to share click here and write me. I will be happy to reply.
If you want to receive the original handmade art postcards from my tours just click here and be a part of the exclusive supporter's club!
Follow the work in progress and real time news on my social accounts
FaceBook, Twitter , Instagram , Tumbler and Pinterest. Watch my videos and reels on Youtube and support my art on Patreon.