In Paratissima 2023 Jungle the Gattree has found the place to bloom for the last time this year.
Artists at work
Work in progress moments from stand preparation on Paratissima Jungle.

Welcome to the jungle!
This is what Paratissima art fair looked like during the days of the show.
The artworks presented in Paratissima Jungle section in Torino (Italy).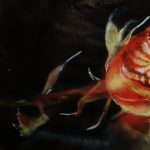 Follow the work in progress and real time news on my social accounts
FaceBook, Twitter , Instagram , Tumbler and Pinterest. Watch my videos and reels on Youtube and support my art on Patreon.
If you have questions, comments or ideas to share click here and write me. I will be happy to reply.