What do you imagine when one says "Moscow"? Probably you think about Kremlin, Red Square or St. Basil's Cathedral… OK, that are the most famous places full of tourists. I will show you another Moscow beyond the Kremlin.
Версия на русском языке – Leggi in Italiano
From my window
Maybe it sounds strange, but most of the Muscovites does not see Kremlin from the window. An average Moscow landscape is something like this:
The ancient churches and cathedrals standing among the skyscrapers, active and dismantled factories and the high tension cables all around.
Dacha
Dacha is the name for a country house. It is a seasonal or year-round second home, often located in the exurbs. The noun "dacha", coming from verb "davat" (to give), originally referred to land allotted by the tsar to his nobles; and indeed the dacha in Soviet times is similar to the allotment in some Western countries, normally free, to citizens by the local government for gardening or growing vegetables for personal consumption.
Since some time avery my journey to Russia I visit "dacha" of my family. In autumn the country landscapes are coloured by the red and yellow leaves of the trees.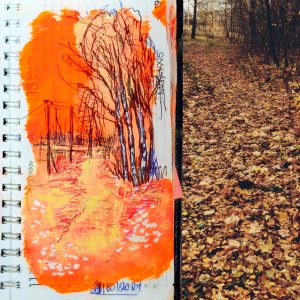 Still-lifes
Usually you will see big and small plats with fruit or vegetables and more in the kitchens of muscovites. These place tell a lot about people who live in there. Here are some still-lifes drawn in different places..
Moscow City
It is one of the most recent and ambitious parts of Moscow. MIBC (Moscow International Business Center), also known as Moscow-City is situated about 4 kilometers (2.5 mi) west of Red Square. Here you will find the headquarters of the banks, web companies like Yandex, Mail.ru, Kaspersky and the luxury apartments and restaurants. But you will unlikely find average muscovites in this major financial centre in Europe.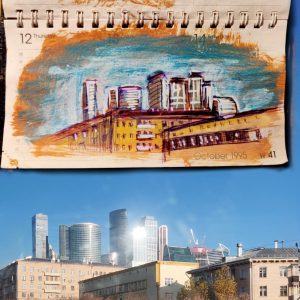 Selfy time
When you come to Moscow there is no way to avoid the places for postcards and films. Muscovites unlikely come here often because there are a lot of tourists. You are absolutely justified to take some photos with Red Square, Kremlin, University of Moscow and other monuments and places of interest.
Ready to take off
The trip takes almost whole day and consists in waiting most of the time. The time passed standing in ine to check-in, passport control, in boarding zone, in flight for me is an occasion to sketch a chaotic life of the airport and aircraft. By the way, if you want to save time and money make the COVID test directly in the airport. It takes just 1 hour.
Here are some pictures of Malpensa (Italy) and Sheremetievo (Russia) airoports: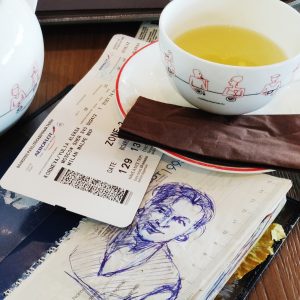 It's time to take off and switch off the devices… see you next trip!
p.s. How I did it.
The story of Moscow fall sketchbook 2021 started in April of the same year when my father passed away. Among his belongings I found an almost blanc agenda of 1995. So I decided to use that notebook to tell Moscow as it seen by a muscovite. The pages are covered with transparent acrylic paint to give a right space to the original page format on the background and the sketch in front line.
If you want to receive the original handmade art postcards from my tours just click here and be a part of the exclusive supporter's club!
Follow the work in progress and real time news on my social accounts
FaceBook, Twitter , Instagram , Tumbler and Pinterest. Watch my videos and reels on Youtube and support my art on Patreon.